Pesticides Impact

Yoh Nagao
2021
Collage, Acrylic, Aerosol on Canvas
594 x 420 x 45mm
These days, there are full of self-centered people that seek only convenience and rationalization without considering the impact on future generations, and it is getting easy to purchase powerful herbicide and insecticide in drugstores and home centers. Are they really necessary? What can we obtain by controlling nature without spending a lot of time and effort?

This time, I paid homage to Yusaku Kamekura's 1983 poster for Hiroshima Appeals, replacing the burning butterflies with a collage of insecticide and herbicide packages. I worked on this project in sizzling hot days of August by actually photographing the blue sky from my neighborhood with my camera as a background for the work.

Human acts are always cruel, selfish and destructive. I wish I could share such stupidity, which is also appallingly masochistic.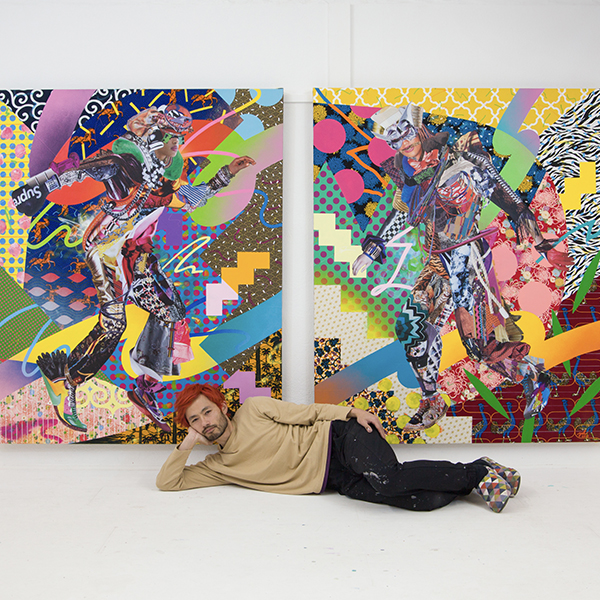 Yoh Nagao

Contemporary Aritst
Yoh Nagao is a Yokohama born and Nagoya raised Japanese contemporary artist who is passionate to pursue his artistic and philosophical theme "We will be the indigenous people of the future" by combining painting and collage in his art pieces.

In recent years, Nagao has been invited to SCOPE Art Fair, LA Art Show, No Commission hosted by HipHop producer Swizzbeatz, SEA WALLS, Art Festival hosted by St+art India and so on. Those activities has been featured in world-renowned media such as New York Times, JUXTAPOZ (USA), DAZED AND CONFUSED (UK), LODOWN (Germany), HIDDEN CHAMPION (Japan).
WEBSITE